Razzle Dazzle Recipes
"Your Source for Thanksgiving Recipes"
Creamed Turkey and Fall Vegetables Over Wild Rice Recipe

6 T. butter
3/4 C. chopped leeks, white parts only
3 medium carrots, peeled and cut into 1/2-inch dice
3 medium parsnips, peeled and cut into 1/2-inch dice
1 large fennel bulb, stalk cut off and bulb halved, cored and chopped
Salt
3 1/2 T. flour
1 1/2 C. half and half
1 1/2 C. chicken or turkey stock
1/2 C. grated imported Parmesan cheese, preferably Parmigiano-Reggiano
1/4 t. cayenne pepper
3/8 t. freshly grated nutmeg
2 C. cooked 1/2-inch cubed turkey
1 1/2 C. wild rice
1 C. long-grain rice
1/3 C. chopped flat-leaf parsley

Melt 3 tablespoons of the butter in large heavy saucepan over medium-high heat. When hot, add leeks, carrots, parsnips and fennel and cook, stirring, until softened, about 15 minutes. Season vegetables generously with salt. Remove vegetables from pan and set aside.

Heat remaining 3 tablespoons of butter in same pan over medium heat until hot, then add flour and stir constantly for 1 minute. Do not let flour brown. Lower heat if necessary. Pour in half and half and stock and whisk constantly until mixture thickens and coats back of spoon, 3 to 4 minutes. Stir in cheese, 3/4 teaspoon salt, cayenne and nutmeg.

Return vegetables to sauce along with turkey. Taste and adjust seasonings as needed. You may need more salt depending on whether stock was salted or not. (Creamed turkey and vegetables can be prepared 1 day ahead. Cool, cover and refrigerate. Reheat, preferably in large, shallow skillet, stirring, over low heat.)

Cook each rice separately according to package directions. Drain and toss together, seasoning with salt as needed (see Note).

To serve, ladle mound of rice on each of 6 dinner plates. Stir half of the parsley into creamed turkey mixture, then ladle sauce over rice. Sprinkle each serving with some of the remaining parsley. Makes 6 servings.

Note: If you buy wild rice in bulk and do not have cooking directions, cook in the following way: Add the 1 1/2 cups wild rice to 3 quarts boiling salted water and cook 30 to 35 minutes. Rice will double in size and still should be somewhat crunchy when done. Remove and drain in a strainer.

Back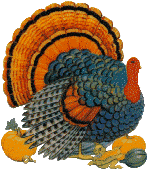 Home

Razzle Dazzle Recipes





http://www.razzledazzlerecipes.com

Don't forget to visit our other Recipe site at
That's My Home

Happy Thanksgiving!