Razzle Dazzle Recipes
"Your Source for Thanksgiving Recipes"
Gulliver's Corn Recipe

2 bags (16 oz.) frozen kernel corn (defrosted)
1 1/2 C. whipping cream
2 t. salt
1 t. sugar
3 T. flour mixed with 3 T. melted butter or margarine
2 to 3 T. plus 1/2 C. grated Parmesan cheese

Butter an ovenproof baking dish. Sprinkle 2 to 3 tablespoons Parmesan over the butter, tilting the pan to distribute the cheese. Bring the whipping cream to a boil. Reduce the heat and add corn. Simmer for 5 minutes. Stir in salt and sugar. Make a paste out of the butter and flour, and stir into the corn and cook until thickened. Turn corn into oven-proof dish, sprinkle with cheese and dot with butter. Refrigerate up to 4 days. Do not freeze this dish. Bake at 350 degrees for 30 minutes or until bubbling and golden brown.
Back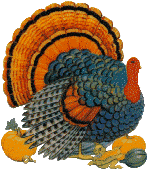 Home

Razzle Dazzle Recipes





http://www.razzledazzlerecipes.com

Don't forget to visit our other Recipe site at
That's My Home

Happy Thanksgiving!