Razzle Dazzle Recipes
"Your Source for Thanksgiving Recipes"
Hazelnut Glazed Carrots Recipe

1 lb. peeled baby carrots
2 T. butter or margarine
1 1/2 T. lemon juice
2 T. hazelnut syrup (see note), or substitute 1 T. brown sugar
1/4 t. salt
Freshly ground black pepper to taste
1/8 t. ground cinnamon
1/8 t. ground cumin
1 T. minced fresh mint or parsley

Bring a large pan of water to boil, add the carrots and time 4 to 5 minutes, until just tender. Drain in a colander and rinse with cold water until chilled. Wrap in paper towels and a plastic bag and refrigerate.

About 1 hour before glazing the carrots, melt the butter with the lemon juice, hazelnut syrup or brown sugar, salt, pepper, cinnamon and cumin. Stir in the carrots and remove from the heat; in effect you are marinating the carrots in the mixture for a bit. Just before serving, cook over medium-high heat, stirring often, until the carrots are glazed and hot. Stir in the mint or parsley and serve. Makes 6 servings.

Note: Hazelnut syrup is often found in major supermarkets, specialty food shops or shops selling espresso and coffee.
Back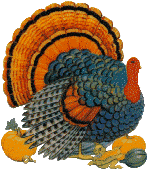 Home

Razzle Dazzle Recipes





http://www.razzledazzlerecipes.com

Don't forget to visit our other Recipe site at
That's My Home

Happy Thanksgiving!