Razzle Dazzle Recipes
"Your Source for Thanksgiving Recipes"
Hazelnut-Honey Baked Squash Recipe
3 medium-size acorn squash
1 C. water
6 T. honey
6 t. hazelnut butter (recipe follows)
Ground allspice, to taste
Salt and freshly ground black pepper (optional)

Preheat oven to 350°F.

Cut squash in half and remove seeds and strings. Pour water into a baking dish large enough to hold the squash. Place squash halves, cut side down, in pan. Bake for about 30 minutes, or until squash starts to feel soft.

Turn squash halves over and fill each cavity with 1 tablespoon honey and 1 teaspoon hazelnut butter. Spread honey-butter mixture over top edges and all over cavity. Sprinkle lightly with allspice, salt and pepper. Continue baking for 30 to 40 minutes, until squash is nicely glazed. Serve with any roast meat, fowl or game.

To make hazelnut butter:
Chop blanched hazelnuts or filberts in a food processor or blender until a paste is formed. Hazelnut butter is also available in health and specialty food stores.

Makes 6 servings.
Back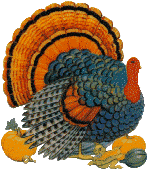 Home

Razzle Dazzle Recipes





http://www.razzledazzlerecipes.com

Don't forget to visit our other Recipe site at
That's My Home

Happy Thanksgiving!