Razzle Dazzle Recipes
"Your Source for Thanksgiving Recipes"
Parisian Onion Soup Recipe
14 oz. onions, peeled and sliced into thin strips
3 T. butter
1/2 C. dry white wine
3 1/2 C. rich broth
salt
freshly ground black pepper
1 garlic clove
1 T. olive oil
8 slices from a baguette
1/2 C. grated Beaufort or gruyère de Comté
Sweat onions in heavy-bottomed pot with butter until they are soft. Add the wine and broth and bring to a boil; season with salt and pepper and cook for about 30 minutes. Preheat the broiler. Peel and crush the garlic clove and stir into the oil. Spread this mixture over the slices of bread and toast under the broiler. Ladle the soup into bowls, place two slices of bread on top, sprinkle with the cheese and brown under the broiler.
Makes 4 servings.
Source: "The Cheese Bible" by Christian Teubner
Back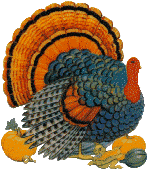 Home

Razzle Dazzle Recipes





http://www.razzledazzlerecipes.com

Don't forget to visit our other Recipe site at
That's My Home

Happy Thanksgiving!