Razzle Dazzle Recipes
"Your Source for Thanksgiving Recipes"
Pumpkin and Pancetta Risotto Recipe
1/3 C. chopped pancetta
2 - 2 1/2 C. chicken stock
2 large shallots, chopped
4 C. pumpkin flesh, cut into 1/2-inch cubes (about 1 pound)
3 T. olive oil
1 C. risotto rice
1/2 C. dry white wine
2 T. mascarpone
1/4 C. freshly grated Parmesan
sea salt and freshly ground black pepper

Heat a dry non-stick frying pan and, when hot, fry the pancetta until browned and crisp. Drain and set aside. Heat the stock to a gentle simmer in a saucepan. In a large saucepan, saute the shallots and pumpkin in the oil for about 5 minutes. Stir in the rice and cook for 2 minutes to toast the grains. Add the wine and cook until completely reduced. Pour in one quarter of the stock and stir well.
Cook gently until the liquid had been absorbed, then stir in another ladleful of stock. Continue cooking and stirring until the rice grains are just tender and the risotto is creamy (about 15 minutes). Stir in the pancetta, mascarpone and half of the Parmesan 2 minutes before the risotto is finished. Serve in warm bowls and garnish with the remaining Parmesan. Serves 4 as a first course or 2 as a main dish.

Source: "Gordon Ramsey: A Chef for All Seasons"

Back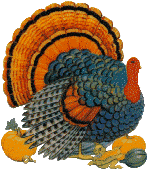 Home

Razzle Dazzle Recipes





http://www.razzledazzlerecipes.com

Don't forget to visit our other Recipe site at
That's My Home

Happy Thanksgiving!