Razzle Dazzle Recipes
"Your Source for Thanksgiving Recipes"
Pumpkin, Leek and Potato Soup
4 whole cloves
10 black peppercorns
1 bay leaf
4 sprigs fresh thyme
4 sprigs fresh parsley
3 T. olive oil
2 large cloves garlic, minced
3 leeks, white and light-green parts only, halved lengthwise and thinly sliced
1 t. ground cinnamon
1 large russet potato, peeled and cut into 1-inch chunks
1 1/2 lbs. sugar pumpkin, peeled, halved lengthwise, seeded and cut into 1-inch chunks
4 C. chicken stock or canned low-sodium chicken broth
2 C. half-and-half
1 t. salt
1 t. sugar
pinch of cayenne
freshly ground pepper
1/4 C. minced fresh parsley

Cut an 8-inch square of cheesecloth, and place the cloves, peppercorns, bay leaf, thyme and parsley (set the minced parsley aside) in the center. Bring up the ends to form a bag and tie securely with kitchen twine. Set aside.

In a 6- to 8-quart saucepan, heat the olive oil over medium heat. Swirl to coat the pan and saute the garlic and leeks, stirring frequently until softened but not browned (about 5 minutes). Add the cinnamon and saute for another minute. Add the potato and pumpkin, the stock and the bag of spices. Bring to a boil. Reduce the heat and simmer, covered, until the potato and pumpkin are tender when pierced with a fork (about 20 minutes). Discard the bag of spices.

Cool the soup slightly; then puree in batches in a blender or a food processor. Return the pureed soup to the saucepan. Add the half-and-half, salt, sugar, cayenne and freshly ground pepper to taste. Cook over low heat until heated through, but do not boil. Garnish with minced parsley.
Serves 8.
Back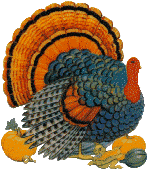 Home

Razzle Dazzle Recipes





http://www.razzledazzlerecipes.com

Don't forget to visit our other Recipe site at
That's My Home

Happy Thanksgiving!