Razzle Dazzle Recipes
"Your Source for Thanksgiving Recipes"
Pumpkin Soup Recipe
5 T. butter, softened
1 T. brown sugar
4 slices whole wheat bread
1 C. chopped onion
2 14 oz. cans chicken broth
1 15 oz. can pumpkin puree
1 t. salt
a pinch each of ginger, allspice, black pepper, cinnamon
1 C. heavy whipping cream

Combine 3 tablespoons of the butter, along with the brown sugar; spread evenly over bread. Place bread, buttered side up, on a baking sheet and bake at 400°F. 8-10 minutes until bread is crisp and butter is bubbly; cut into squares for croutons and set aside.
Saute onion in remaining butter in a large saucepan. Add remaining ingredients - except cream - mixing well. Bring to a boil, then reduce heat to low, and cook 15-20 minutes. Add cream and heat through.
Ladle into bowls and top with croutons.
Back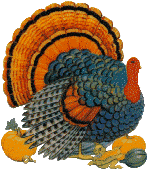 Home

Razzle Dazzle Recipes





http://www.razzledazzlerecipes.com

Don't forget to visit our other Recipe site at
That's My Home

Happy Thanksgiving!