Razzle Dazzle Recipes
"Your Source for Thanksgiving Recipes"
Roasted Cranberry Relish Recipe

2 pkgs. (12 oz. each) cranberries
1 C. sugar
1/2 t. cinnamon
1 C. orange marmalade
2 T. lemon juice
1 C. walnuts roasted at 325° F. for 12 minutes, optional

In large bowl combine cranberries, sugar and cinnamon. Put into 9 x 1 3-inch pan and cover tightly with foil. Bake at 325° F. for 30 minutes. Stir, recover and continue baking an additional 30 minutes or until cranberries are soft. Stir in marmalade, lemon juice and walnuts, if desired.
Makes 6 1/2 cups.
Back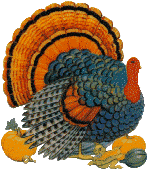 Home

Razzle Dazzle Recipes





http://www.razzledazzlerecipes.com

Don't forget to visit our other Recipe site at
That's My Home

Happy Thanksgiving!