Razzle Dazzle Recipes - Thanksgiving Recipes
"Your Source for Thanksgiving Recipes Online"
Spinach Casserole Recipe

4 packages frozen spinach, (10 oz. each)

12 oz. cream cheese, softened

1/2 C. butter, melted, divided

2 C. seasoned bread crumbs

1 C. shredded parmesan cheese

paprika

Thaw spinach and press or squeeze to remove excess water. Grease a casserole dish and set aside. In a large mixing bowl, combine the spinach, cream cheese, parmesan and 1/4 cup of melted butter. Spoon into casserole dish. Sprinkle with the breadcrumbs and paprika, and drizzle with remaining 1/4 cup of butter. Bake at 350° F. for 25 minutes.

8 Servings

Back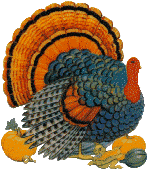 Home

Razzle Dazzle Recipes





http://www.razzledazzlerecipes.com

Don't forget to visit our other Recipe site at
That's My Home

Happy Thanksgiving!