Razzle Dazzle Recipes
"Your Source for Thanksgiving Recipes"
Squash Casserole Recipe

2 lbs. yellow summer squash, sliced
1 C. chopped onion
1 C. water
1/2 t. salt
1/4 C. butter
Freshly ground black pepper to taste
1 C. shredded Cheddar cheese
1 C. crushed saltines
2 eggs, slightly beaten

Place squash, onion, water and salt in a large saucepan. Bring to a boil. Reduce heat to medium and simmer, uncovered, stirring occasionally, 15 to 20 minutes, or until squash is tender. Drain well in a colander. Transfer to a bowl and add butter and pepper. Coarsely mash squash with a fork or potato masher.

Meanwhile preheat oven to 350° F. and grease a 1 1/2-quart shallow baking dish.

Add cheese, saltines and eggs to mashed-squash mixture and stir until well combined. Transfer to greased baking dish and bake 35 minutes, or until top is lightly browned.

Makes 4 to 6 servings.
Back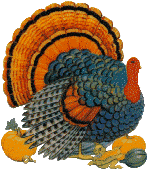 Home

Razzle Dazzle Recipes





http://www.razzledazzlerecipes.com

Don't forget to visit our other Recipe site at
That's My Home

Happy Thanksgiving!