Razzle Dazzle Recipes
"Your Source for Thanksgiving Recipes"
Sweet Potato Gratin
4 to 5 sweet potatoes
1 C. coarsely chopped pecans
1/2 C. lightly packed dark brown sugar
2 t. ground ginger
1 t. ground cinnamon
Pinch of freshly ground nutmeg
4 T. unsalted butter plus more for dish
2 C. miniature marshmallows

Place sweet potatoes in a large saucepan of cold water, then bring to a boil. Reduce heat and simmer until potatoes are just tender, 20 minutes. Drain. Place potatoes in a bowl of cold water until skins begin to loosen. Peel cool potatoes; set aside.

In a small bowl, combine pecans, dark brown sugar, ginger, cinnamon, nutmeg and butter, using your fingers to blend. Slice reserved potatoes 1/4 inch thick.

Preheat oven to 450ºF. Butter an 8-inch-square baking dish. Layer one-third of the potatoes on the bottom. Sprinkle with 1/3 of the nut mixture. Repeat, adding another 1/3 of the potatoes, another 1/3 of the nut mixture, then the remaining potatoes and nut mixture.
Cover with foil, and bake until heated through, about 40 minutes. Remove dish from oven, and raise temperature to broil. Top gratin with a layer of marshmallows, and heat just until browned, 30 to 60 seconds. Serve hot.

Back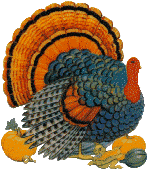 Home

Razzle Dazzle Recipes





http://www.razzledazzlerecipes.com

Don't forget to visit our other Recipe site at
That's My Home

Happy Thanksgiving!