Razzle Dazzle Recipes
"Your Source for Thanksgiving Recipes"
Sweet Gingered Corn

2 T. corn oil
1/2 t. cumin powder
1 1/2 t. grated fresh ginger
2 medium tomatoes, coarsely chopped
1/2 t. salt
2 T. maple syrup
4 C. frozen corn kernels

Heat the oil in a large skillet over a medium flame. Add the cumin and ginger and saute for 1 minute, stirring constantly. Add the tomatoes and salt. Bring to a simmer and cook for 4 minutes, or until most of the liquid from the tomatoes evaporates.

Add the maple syrup and corn and return to a simmer. Cook, stirring frequently to prevent sticking, for 5 minutes, or until corn is heated through. Serve immediately.

Makes 4 to 6 servings.

Back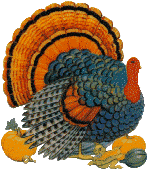 Home

Razzle Dazzle Recipes





http://www.razzledazzlerecipes.com

Don't forget to visit our other Recipe site at
That's My Home

Happy Thanksgiving!