Razzle Dazzle Recipes
"Your Source for Thanksgiving Recipes"
Tex Mex Cranberry Salsa Recipe

1 C. water
1 C. sugar
1 12-oz. package fresh or frozen cranberries
2 T. chopped canned jalapeno peppers
1 t. dried cilantro
1/4 t. ground cumin
1 green onion, white and green parts, sliced
1 t. lime juice

Combine water and sugar in a medium saucepan. Bring to a boil over medium heat. Add cranberries; return to a boil. Gently boil cranberries for 10 minutes without stirring. Pour into medium glass mixing bowl. Gently stir in remaining ingredients.

Place a piece of plastic wrap directly on salsa. Cool at room temperature and refrigerate. Serve at room temperature.

Yield: 2 1/2 cups.
Back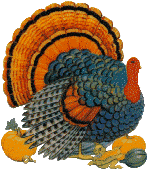 Home

Razzle Dazzle Recipes





http://www.razzledazzlerecipes.com

Don't forget to visit our other Recipe site at
That's My Home

Happy Thanksgiving!