Razzle Dazzle Recipes
"Your Source for Thanksgiving Recipes"
Turkey Crepes Mornay Recipe

Crepes:
1 C. flour
1/8 t. salt
3 eggs
1 1/2 C. milk
Melted butter or peanut oil

Filling and Sauce:
8 T. butter, divided
1/4 lb. mushrooms, chopped
6 green onions, chopped
2 T. parsley, chopped
2 C. cooked turkey, chopped
1 1/2 t. salt, divided
4 T. flour
2 C. milk
1/4 t. pepper
1/2 C. Swiss cheese, grated
1/3 C. Parmesan cheese, grated
3/4 C. cream
2 T. melted butter
1/3 C. seasoned breadcrumbs

Beat flour, salt and eggs to form a thick paste. Slowly stir in milk and beat smooth. Let stand 1 hour. Make 18 crepes in a 7-inch pan. Stack between pieces of waxed paper. Freeze 8 crepes for another use.

Sauté mushrooms, onions and parsley in 4 tablespoons butter until tender. Add chicken and 3/4 teaspoon salt. Set aside. Melt remaining 4 tablespoons butter over medium heat. Stir in flour until smooth. Slowly pour in milk and cook until it boils and thickens. Add 3/4 teaspoon salt and pepper. Add cheeses and stir to melt. Add 1 cup sauce to chicken mixture. Stir cream into remaining cheese sauce. Fill crepes and place in greased 8 x 11-inch dish. Pour sauce over crepes. Mix together butter and breadcrumbs. Sprinkle over crepes and bake at 350° F. for 20-30 minutes.
Servings: 8

Note: Time saving tip: You can now buy crepes already made in your grocery store. Look in the deli or the dairy case.
Back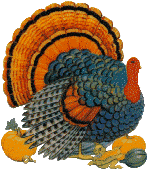 Home

Razzle Dazzle Recipes





http://www.razzledazzlerecipes.com

Don't forget to visit our other Recipe site at
That's My Home

Happy Thanksgiving!