Razzle Dazzle Recipes - Thanksgiving Recipes
"Your Source for Turkey Recipes Online"
End-of-the-Oregon-Trail Bread Stuffing Recipe

Makes about 6 cups of cooked dressing

1/2 C. unsalted butter (1 stick)

1 large onion, chopped

3 celery stalks with leaves, chopped

1 pound firm white artisan bread, cut into 1/2-inch cubes (10 cups) and dried overnight or in the oven

1/4 C. chopped fresh parsley

3 C. homemade turkey stock or canned reduced-sodium chicken broth, or as needed

2 t. poultry seasoning (optional; see note)

Salt and freshly ground black pepper

1/2 C. dried cranberries

1/2 C. finely chopped mushrooms, such as shiitake, chanterelles, enoki, cremini, porcini, hedgehogs, cauliflowers or matsutakes (fresh or dried and reconstituted)

1/2 to 3/4 C. chopped hazelnuts (toasted and skins removed; see note)

2 pears, peeled and chopped (optional)

In a large skillet, melt the butter over medium heat. Add the onion and celery. Cook, stirring often, until the onion is golden, about 10 minutes.

Scrape the vegetables and butter into a large bowl. Add the stuffing and parsley. Stir in enough of the stock to moisten the stuffing, about 2 1/2 cups. Season with the poultry seasoning, if desired, and salt and pepper to taste. Add dried cranberries, mushrooms, hazelnuts and pears, if using. Use to stuff the turkey, or place in a buttered baking dish, drizzle with an additional 1/2 cup stock, cover and bake as a side dish.

Note: To toast hazelnuts, spread shelled nuts in dry skillet and cook over medium heat, stirring, about 10 minutes or until skins crack. Be careful not to burn. To remove skins, rub warm nuts with a rough cloth.

Note: To make homemade poultry seasoning: Combine 1 teaspoon crumbled dried rosemary, 1 teaspoon crumbled dried sage, 1 teaspoon crumbled dried thyme, 1 teaspoon dried marjoram and 1 teaspoon celery salt with 1/4 teaspoon freshly ground black pepper. Crush together in a mortar and pestle, minifood processor, or spice grinder.
Back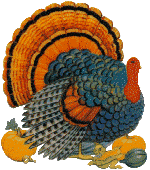 Home

Razzle Dazzle Recipes



http://www.razzledazzlerecipes.com

Don't forget to visit our other Recipe site at
That's My Home