Razzle Dazzle Recipes - Thanksgiving Recipes
"Your Source for Turkey Recipes Online"
Laura Bush's Cornbread Stuffing
1/2 C. vegetable oil
2 C. stone-ground cornmeal
2 C. flour
2 T. baking powder
4 t. sugar
salt to taste
2 eggs, beaten
2 C. whole milk or 1 cup milk and 1 cup water
3 C. chopped onion
3 C. chopped celery
1/2 lb. unsalted butter, divided
1 T. olive oil
1/2 to 1 C. fresh sage, chopped
ground black pepper to taste
3 C. turkey stock

To make cornbread, heat oven to 450°F. Heat vegetable oil in 9 x 13-inch metal baking pan in oven until very hot. In a large bowl, combine cornmeal, flour, baking powder, sugar and salt. Stir in eggs and milk; then pour hot oil into batter and mix. Pour into the pan; bake 20 to 25 minutes or until golden.

To make the dressing, reduce oven temperature to 350°F. Crumble cornbread into a large bowl. Sauté onion and celery in 12 tablespoons butter and the olive oil until soft; add to cornbread. Add sage, salt and pepper to cornbread mixture; place in a 9 x 12-inch glass baking dish.

Melt remaining 4 tablespoons butter; drizzle over cornbread. Spoon turkey stock over cornbread. (Dish can be prepared a day or two in advance up to this point. Refrigerate, then bring to room temperature before baking.) Cover with foil, and bake 20 minutes; remove foil, and bake another 10 minutes, until brown. If dressing seems too dry, drizzle with more stock and butter.
Makes 12 to 14 servings.
Back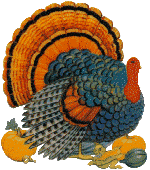 Home

Razzle Dazzle Recipes



http://www.razzledazzlerecipes.com

Don't forget to visit our other Recipe site at
That's My Home