Razzle Dazzle Recipes - Thanksgiving Recipes
"Your Source for Turkey Recipes Online"
Turkey With Puerto Rican Flavors Recipe

1/4 C. olive oil
1 t. achiote (annatto) seeds
6 garlic cloves, minced
1 T. cumin
2 T. coarse salt
2 t. freshly ground pepper
1 t. dried thyme
1 (12- to 14-pound) turkey
1/2 lb. salt pork
1/4 C. gold rum
1/2 C. golden raisins
6 black-ripe plantains
4 T. butter
1/4 C. brown sugar
1 cinnamon stick

Heat oil over low heat. Add achiote seeds and set aside, covered, for 10 minutes, until the oil is bright red-orange. (Don't fry the seeds or the oil will be bitter.) Strain the oil and set it aside to cool.

Mash the garlic with the cumin, salt, pepper and thyme. Add enough oil to form a paste.

Rinse the turkey and pat it dry. Rub it all over with the spice paste, separating skin from meat and rubbing between where possible. Refrigerate, covered, overnight.

Cube the salt pork. Cook over medium-high heat in a heavy skillet, stirring, until browned and crisp, about 5 minutes. Drain and set aside. Pour rum over raisins and set aside.

Peel and cube plantains. Melt butter in a skillet and sauté plantains briefly. Add brown sugar, cinnamon stick and 1/2 cup water. Cook until the plantains are soft, about 20 minutes. Add rum and raisins; cook 10 minutes more. Stir in half the fried pork.

If desired, loosely fill the turkey cavity with stuffing. Or place it in a casserole and refrigerate.

Roast turkey at 325 degrees, basting occasionally with pan drippings, for about 4 hours, until thigh temperature is 180 degrees and stuffing 165 degrees.

If baking stuffing separately, place in oven about 45 minutes before turkey is done. Let turkey rest 15 minutes before carving.

Remove and discard cinnamon stick. Garnish stuffing with remaining fried pork.
Makes 12 servings.
Back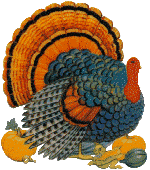 Home

Razzle Dazzle Recipes



http://www.razzledazzlerecipes.com

Don't forget to visit our other Recipe site at
That's My Home