Razzle Dazzle Recipes - Thanksgiving Recipes
"Your Source for Turkey Recipes Online"
Sausage and Apple Stuffing Recipe

6 C. cubed white bread
1 C. crumbled uncooked Italian sausage
6 T. unsalted butter
1/2 C. finely diced celery
1/2 C. finely diced onion
1 C. peeled, cored, diced apple
1/2 C. chopped walnuts, toasted
1 can chicken broth, as needed
1 C. hot water, as needed
2 T. finely chopped Italian or flat-leaf parsley
1/2 t. salt, or to taste
1/4 t. freshly ground black pepper, to taste
1/2 t. sage

Preheat oven to 300° F. Arrange bread cubes in even layer on baking sheets; bake 10 to 12 minutes or until slightly dry, but not browned. Transfer to large mixing bowl; set aside.

In skillet, saute sausage over medium heat 5 to 6 minutes or until cooked through; drain well on paper towels. In same skillet, melt butter over medium-high heat; cook and stir celery and onion until tender.

Add vegetables and sausage to bread cubes in bowl. Add apple and walnuts; toss to combine. If stuffing is too dry, add chicken broth and hot water as needed. Stuffing should be moist enough to hold together when lightly pressed, but not so wet that it packs tightly. Sprinkle with parsley; season with salt, pepper, and sage as desired.

Stuff turkey and bake according to turkey package directions. Or bake stuffing in a casserole dish at 350° F. for 20 to 30 minutes.

Yield: 16 servings.
Back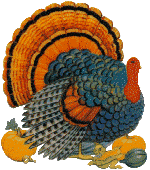 Home

Razzle Dazzle Recipes



http://www.razzledazzlerecipes.com

Don't forget to visit our other Recipe site at
That's My Home