Razzle Dazzle Recipes - Thanksgiving Recipes
"Your Source for Turkey Recipes Online"
Simple Roast Turkey Recipe

1 20-pound turkey

1 C. softened butter

12 garlic cloves, peeled

8 fresh thyme sprigs

8 fresh parsley sprigs

1/2 C. melted butter

Position the rack at the lowest level in the oven; preheat the oven to 350° F.

Rinse the turkey and pat dry with paper towels. Loosen skin over breast, thighs and upper drumsticks by running hand gently between skin and meat. Rub softened butter over meat under loosened skin. Season turkey with salt and pepper.

Place garlic, thyme and parsley into the cavity. Tie legs together loosely. Place turkey on a rack in a large roasting pan. Roast in preheated oven until a meat thermometer inserted in the thickest part of the thigh registers 180° F. Baste with melted butter and pan juices every 20 minutes. A 20-pounder will take about 3 1/2 hours. Tent with foil if turkey is browned before done.
Back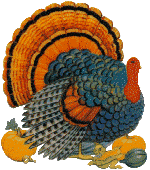 Home

Razzle Dazzle Recipes



http://www.razzledazzlerecipes.com

Don't forget to visit our other Recipe site at
That's My Home