Razzle Dazzle Recipes - Thanksgiving Recipes
"Your Source for Turkey Recipes Online"
Turkey and Stuffing Bake Recipe

1/3 C. butter or margarine

2 C. herb-seasoned crumb stuffing mix

1/2 C. sliced celery

1/2 C. chopped onion

2 T. butter or margarine, melted

1 can condensed cream of chicken soup

1/2 C. dairy sour cream

1/2 C. water

2 1/2 C. cubed cooked turkey or chicken

Preheat oven to 350° F.

In a medium saucepan over medium heat, melt 1/3 cup butter. Stir in stuffing mix; set aside.

In a 10-inch skillet over medium-high heat, saute celery and onion in 2 tablespoons melted butter 8 minutes or until tender and lightly browned. Stir in soup, sour cream, and water until blended. Remove from heat.
Stir in turkey and half of the buttered stuffing mix until blended. Transfer to a shallow 1 1/2-quart baking dish. Top with remaining stuffing mix.
Bake 30 minutes or until edges are bubbly and center is very hot.

Back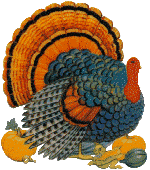 Home

Razzle Dazzle Recipes



http://www.razzledazzlerecipes.com

Don't forget to visit our other Recipe site at
That's My Home