Razzle Dazzle Recipes - Thanksgiving Recipes
"Your Source for Turkey Recipes Online"
Bread Dressing Recipe
3 medium yellow onions (chopped)
1 stalk of celery (minced)
1 (long) loaf of white bread (stale and dried out)
1-1/2 sticks butter
2 eggs, beaten
2 cans chicken broth
3 T. cornmeal
1 T. celery seed
Pan drippings from chicken or turkey

Open bread and set out in refrigerator to make hard. Day before you cook place bread on large cookie sheet in unheated oven and let it sit. Melt butter in a large nonstick skillet or Dutch oven and saute onion and celery until clear. Don't scorch.

In a separate bowl, crumble bread into small pieces and thoroughly dampen with water. Pour bread on top of onion-celery mix and slowly stir in enough water to make mixture mushy.

Heat mixture on medium burner stirring constantly.

Dough consistency will go through several changes and eventually form a large rounded mass and then start forming smaller balls. Desired consistency is lumpy like marbles. Stir in eggs and 1 to 2 cans chicken broth. Sprinkle enough dry corn meal to coat the top surface until it's thoroughly covered. Sprinkle celery seed so there's a fine dusting of seed over top surface. Add salt and pepper to taste. (Remember chicken broth usually has high sodium content).

Continue stirring on top of stove until it is serving consistency.

(If preparing ahead of time, cover mixture and put in refrigerator or freezer. On serving day, continue with instructions below).

Add pan drippings from turkey and chicken. Mix well and put in baking dish and at 375° F. until it reaches desired consistency (usually 30 minutes).
Back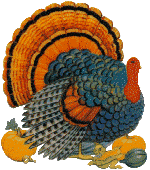 Home

Razzle Dazzle Recipes



http://www.razzledazzlerecipes.com

Don't forget to visit our other Recipe site at
That's My Home