Razzle Dazzle Recipes
"Your Source for Thanksgiving Recipes"
Turkey Vegetable Soup with Angel Hair Pasta Recipe

8 C. canned or homemade chicken or turkey broth
2 shallots, peeled and thinly sliced
2 carrots, peeled and minced
2 ribs celery, thinly sliced
1/2 oz. dried mushroom pieces, rehydrated
2 ozs. dried angel hair pasta
1 C. finely chopped cooked turkey
3 T. finely minced fresh parsley

Freshly ground pepper to taste

Bring the broth to a simmer in a large saucepan over medium-high heat. Add the shallots, carrots, celery and mushrooms. Simmer, uncovered, until the vegetables are tender, 15 to 20 minutes.

Add the pasta and continue cooking until it is al dente, 4 to 5 minutes. Stir in the turkey and parsley and cook a minute or two more until all is heated through. Season with pepper to taste.

Serve hot.

Note: To rehydrate dried mushrooms, cover with warm water and let stand 15 minutes. Rinse under additional water if necessary.

Makes 4 to 6 servings.
Back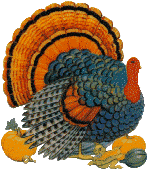 Home

Razzle Dazzle Recipes





http://www.razzledazzlerecipes.com

Don't forget to visit our other Recipe site at
That's My Home

Happy Thanksgiving!