Razzle Dazzle Recipes
"Your Source for Thanksgiving Recipes"
Waldorf Salad Recipe

4 apples (Red and/or Golden Delicious recommended)
2 T. fresh lemon juice
1 C. chopped celery
1/2 C. broken or coarsely chopped walnuts
1 C. halved seedless grapes (red and/or green)
1/4 C. mayonnaise or salad dressing
2 T. light cream
4 lettuce leaves
Wash and core the apples. Leave on the skins.

Dice apples with their skins and toss with lemon juice to prevent browning. Refrigerate while preparing other ingredients.

Mix, chill ingredients: Mix celery, walnuts and grapes in a medium-size bowl. Combine with apples. Blend in mayonnaise or salad dressing and the light cream. Cover tightly and chill thoroughly.

Serve chilled, mounding each serving on cold lettuce leaves.
Makes 4 servings.
Back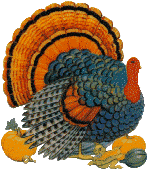 Home

Razzle Dazzle Recipes





http://www.razzledazzlerecipes.com

Don't forget to visit our other Recipe site at
That's My Home

Happy Thanksgiving!