Make a Ginger Bread House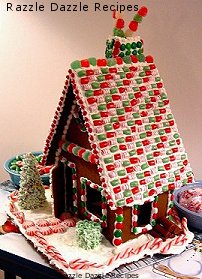 Making a gingerbread house can be lots of fun with a little planning. Buy your candy ahead of time, there's a list below of suggested candies to buy. Bake the house at least a day before you intend to decorate it so there is time for it to dry. Once assembled they should last about a month. Bake an extra recipe of gingerbread to make cookies for those that want to munch on your creation. Decorate with a few of the extra candies, the kids will love helping with this.
Select your house pattern and cut your template. I cut mine out of parchment paper but you can use cardboard. Some magazines have templates and there are some book recommendations at the end of the article and the source of this pattern. Cut your gingerbread pieces out with a sharp knife or pizza cutter on the big pieces.
Schedule:
1st Day - Bake the house -You can also make the accessories (trees, bushes, wreaths, ect.) if time permits.
2nd Day - Assemble the house and let dry. Decorate your house later in the day or an another day.
Candy and Decorations:
Starlight Candies
Candy Canes
M&M's
Christmas Hard Candies
Tootsie Rolls - make a logpile
Chuckles - Sled seat - use small candy canes for runners and a licorice whip for the rope
Red and Green Gumdrops
Cinnamon Candies
Necco Wafers
Chocolate nonpareils
Pretzels - make a good fence
Large Marshmallows - bushs
Ice Cream Cones - Trees - use Wilton tip #74 for both trees and bushs
Cereal for the roof also is cute

Don't limit yourself to this list, the possibilities are as endless as the candy available where you live.

To make the house shown I used:
Roof: 2 1/2 Bags Brach's Arabian Nights Mix (11 oz. each)
Around the Door and Windows - Tic Tacs - I found red, white and green ones boxed together and it took about 1 1/2 boxes of each
Chimney: M&M's
Cinnamon Candies on the outer edges of the roof
1 package (40) candy canes for the fence
6 tootsie rolls for the wood pile
Corners of House: M&M's

Hard Candies work best, chocolate can be used as long as your house is kept in a cool location.
Gingerbread Recipe
5 to 5 1/2 cups all-purpose flour
1 teaspoon baking soda
1 teaspoon salt
2 teaspoons powdered ginger
2 teaspoons ground cinnamon
1 teaspoon ground nutmeg
1 teaspoon ground cloves
1 cup solid vegetable shortening
1 cup granulated sugar
1 1/4 cups unsulphured molasses*
2 eggs, beaten
Preheat oven 375°F. Thoroughly mix flour, baking soda, salt and spices. Melt shortening in large saucepan. Cool slightly. Add sugar, molasses and eggs; mix well. Add four cups of the dry ingredients and mix again.

Turn mixture onto lightly floured surface. Knead in remaining dry ingredients by hand. Add a little more flour, if necessary, to make the dough firm.
Spray the back of your cookie sheets lightly with oil. Roll out about 1/3 of the dough on the BACK of your cookie sheet to 1/4 inch. Position your pattern pieces on top of the dough. With a sharp knife cut around your pattern pieces. Do not place your pieces too close because the dough will spread a little.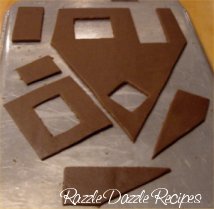 When you get all of your pieces cut our, place the cookie sheet in the refrigerator for at least 10 minutes, this helps prevent spreading. To bake the house shown it took 3 cookie sheets, but it will depend on the size of yours. Always roll out your dough on cool cookie sheet. I always bake a gingerbread round piece to put my house on with any leftover dough, for this house it should be about 14 inches round or oblong. (I put a disc under the gingerbread to help stabilize the house and it can be larger as it gets covered with icing.)
Bake pieces for about 12 minutes, you want your pieces to get hard. They should be starting to brown around the edges. If it gets a little too done, don't worry, just call it character!

If you're not going to use your gingerbread right away, wrap dough in plastic and refrigerate. Refrigerated dough will keep for a week, but be sure to remove it 3 hours prior to rolling so it softens and is workable.

*Substitute 1 1/4 cups light corn syrup for molasses to make Blonde Gingerbread.

Makes 1 Gingerbread House

Note: On the cookie sheet you will see by the top of the house a side piece really close to the house, that is almost too close, so I wouldn't place the pieces that close if you are new to this. You can trim the pieces if need be after baking.

Royal Icing - you will need 2 recipes of this depending on what you do

3 level tablespoons Meringue Powder
4 cups sifted confectioners' sugar (approx. 1 lb.)
6 tablespoons water
Beat all ingredients at low speed for 7-10 minutes (10-12 minutes at high speed for portable mixer) until icing forms peaks. Keep icing covered with a damp cloth when not in use.

Yields 3 cups of icing.
Note: Royal icing should have good body and be moderately stiff: It will not create a lasting bond if too runny and soft. For snow, I sometimes add a few drops of Karo Syrup to thin it just a little for a softer look.
Constructing Your Gingerbread House

Razzle Dazzle Recipes
No Portion of this site may
be republished without permission