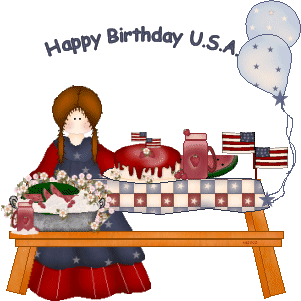 American Flag Cookies

1 C. butter
1 egg white -- whipped
2 t. pure vanilla extract
2 1/2 C. flour
1 1/2 C. sugar
1 1/2 t. baking powder
1 t. red food coloring
1 t. blue food coloring

Preheat oven to 350°F.

In a mixing bowl, combine butter, egg white, and vanilla extract.

In a separate bowl, combine flour, sugar, and baking powder. Mix wet ingredients with dry until just moistened.

Divide cookie dough into three equal portions.

Tint 1 portion with the red food coloring; and another portion with the blue food coloring. Mix thoroughly

Form each portion into long bars and stack bars on top of each other using alternating colors (red, white, blue).

Wrap finished cookies in waxed paper and place in the refrigerator for about an hour.

Cut cookies into 1/4" thick bars. Place on greased baking sheet and bake for 10 to 12 minutes.

Razzle Dazzle Recipes
Copyright © 2000-2006