CHINESE ZODIAC RECIPES
PRESENTED BY MAGGI® TASTE OF ASIATM
AND YING CHANG COMPESTINE
<![if !vml]>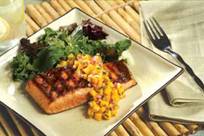 <![endif]>
Zodiac Sign: Snake
People born in the year of the Snake are courageous and determined, as well as humorous and romantic. Such a powerful combination fuels the Snake's seductive nature. Fire, which brings out the full flavor of this dish, is sure to spark love interest for the Snake.

GRILLED SALMON WITH MANGO-GINGER SALSA
(Makes 4 servings)

1 pkg. (1.05 oz.) MAGGI® TASTE OF ASIATM
Seasoning Blend for Thai Chicken Curry
3 tablespoons coconut milk
1 tablespoon rice vinegar
4 (about 2 lb. total) 3/4-inch-thick salmon steaks
or fillets
1 cup Mango-Ginger Salsa (recipe follows)

MIX Maggi Seasoning Blend, coconut milk and vinegar in medium bowl. Add salmon to marinade; mix well. Cover; refrigerate for at least 1 hour.

PREHEAT grill. Oil grill rack.

GRILL salmon over medium-high heat, turning once, for 5 to 10 minutes on each side until salmon flakes easily when tested with a fork. Serve with Mango-Ginger Salsa.

MANGO-GINGER SALSA
(Makes about 2 cups)

1 ripe large mango, peeled, pitted and diced into 1/4-inch cubes
1 small red onion, finely chopped
1/4 cup chopped fresh basil leaves
1 tablespoon fresh lemon juice
1 tablespoon MAGGI® Chili Garlic Sauce
2 teaspoons finely chopped fresh ginger
1 teaspoon MAGGI® Seasoning Sauce

COMBINE mango, onion, basil, lemon juice, Maggi Chili Garlic Sauce, ginger and Maggi Seasoning Sauce in medium bowl. Cover; refrigerate for up to 2 days.


Editor's Note: For the complete set of 12 Chinese Zodiac recipes, more information about MAGGI® TASTE OF ASIATM products, or to schedule an interview with Ying Chang Compestine, please contact Judy Bakshi at (206) 270-4713 or [email protected].