CHINESE ZODIAC RECIPES
PRESENTED BY MAGGI® TASTE OF ASIATM
AND YING CHANG COMPESTINE


<![if !vml]>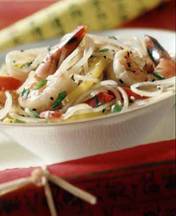 <![endif]>
Zodiac Sign: Pig
People born in the sign of the Pig have a relaxed attitude that brings equilibrium to daily challenges, which results in a long content life. With shrimp to recall the water element of the Pig sign and long noodles to emphasize their long life expectancy, this recipe is sure to have everyone slurping in the New Year. Noodles are an integral part of Chinese New Year celebrations and represent a wish for a long and happy life.

LONGEVITY NOODLES WITH SHRIMP AND SWEET CHILI SAUCE
(Makes 4 servings)

8 ounces fresh or dry rice noodles or fettuccine,
follow package directions & rinse with cold water
1 tablespoon MAGGI® Seasoning Sauce
1 tablespoon lemon juice
2 teaspoons finely chopped peeled gingerroot
12 ounces raw shrimp, large, peeled, deveined
2 tablespoons canola oil
1 tablespoon toasted black or white sesame seeds
or toasted nuts
1 small red bell pepper, seeded and cut into thin strips
1 small yellow bell pepper, seeded and cut into thin strips
2 green onions, thinly sliced diagonally
1 tablespoon MAGGI® Cooking Soy Sauce

COMBINE Maggi Seasoning Sauce, lemon juice and ginger in medium bowl. Add shrimp; toss to coat. Cover and refrigerate for about 30 minutes.

HEAT canola oil in large nonstick wok or skillet over medium-high heat. Add sesame seeds; cook, stirring constantly, for about 30 seconds or until seeds are toasted and fragrant. Remove shrimp from marinade and add to wok; discard marinade. Cook, stirring constantly, until shrimp is opaque, about 1 minute.

ADD red and yellow bell peppers; cook for 1 minute. Stir in noodles, green onions and Maggi Cooking Soy Sauce. Cook, stirring constantly, for 3 to 4 minutes or until heated through. Transfer to serving dish. Serve hot or cold.

Editor's Note: For the complete set of 12 Chinese Zodiac recipes, more information about MAGGI® TASTE OF ASIATM products, or to schedule an interview with Ying Chang Compestine, please contact Judy Bakshi at (206) 270-4713 or [email protected].