CHINESE ZODIAC RECIPES
PRESENTED BY MAGGI® TASTE OF ASIATM
AND YING CHANG COMPESTINE
<![if !vml]>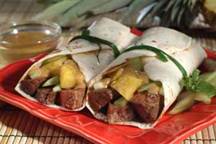 <![endif]>
Zodiac Sign: Ox
People born in the sign of the Ox are known to be hardworking but reluctant to try new things. With fresh, juicy pineapple that complement the Ox's affinity for yellow, this deliciously different dish is sure to persuade the Ox to try something new, while gaining enough strength to accomplish important tasks.

REVITALIZING STEAK AND PINEAPPLE WRAP
(Makes 6 servings)

1 lb. beef flank steak
1 pkg. (1.05 oz.) MAGGI® TASTE OF ASIATM Seasoning Blend for Thai Chicken Curry
1/4 cup fresh orange juice
1 tablespoon extra-virgin olive oil
6 (8-inch) soft taco-size flour tortillas, warmed
1 1/2 cups fresh pineapple chunks or 2 medium
golden delicious apples, peeled, cored and cut into strips
1 small cucumber, peeled and cut into strips
(about 1 1/2 cups total)
Spicy Thai Sauce (recipe follows)

TRIM any fat or gristle off the steak. Cut steak across grain into 1-inch-wide slices.

MIX Maggi Seasoning Blend, orange juice and oil in medium bowl. Add steak to marinade; mix well. Cover; refrigerate for at least 1 hour.

PREHEAT broiler.

BROIL steak on broiler pan for about 7 minutes or until desired doneness. Let stand for 5 minutes. Cut into bite-size pieces. Discard marinade.

SPOON about 3 tablespoons steak mixture into each warm tortilla. Top with 1 1/2 tablespoons each of pineapple and cucumber and about 2 teaspoons Spicy Thai Sauce. Roll up tortillas and eat with your fingers. Serve with additional sauce if desired.
SPICY THAI SAUCE
(Makes about 1 1/4 cups)

1/2 cup reduced-fat creamy peanut butter
1/4 cup reduced-fat unsweetened coconut milk
3 tablespoons plain soy milk
1 tablespoon fresh lime juice
1 tablespoon MAGGI® Sweet Chili Sauce
5 sprigs fresh cilantro
1 tablespoon fish sauce, or to taste

PLACE peanut butter, coconut milk, soy milk, lime juice, Maggi Sweet Chili Sauce, cilantro and fish sauce in blender; cover. Blend until smooth.


Editor's Note: For the complete set of 12 Chinese Zodiac recipes, more information about MAGGI® TASTE OF ASIATM products, or to schedule an interview with Ying Chang Compestine, please contact Judy Bakshi at (206) 270-4713 or [email protected].