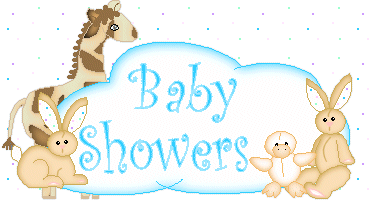 Baby Shower Themes

Nursery Shower
This shower can really be fun if the parents are planning a theme for baby's nursery (Disney characters, bears, Noah's Ark). Guests bring gifts corresponding to the theme. Have a cake decorated to match the theme too!



Baby's Firsts
Guests bring gifts to celebrate first times in baby's life -- bath products for baby's first bath at home, dinnerware for baby's first attempt at solids, shoes for baby's first steps, or a gift certificate for baby's first studio photographs.



Shower for Mom
This is a great idea if mom already has a lot of baby gear -- perhaps if this is not her first child. Guests can offer gift certificates for babysitting, meals, housecleaning, manicures, or dinner out to a restaurant! Other gift ideas include some new pajamas, candles, bath products, etc.



Time of Day Shower
Each guest is to bring a gift corresponding to a specific "time" in baby's day, for example, waking up time, bath time, mealtime, play time, bedtime, etc.



Gift Idea ... Don't forget Dad!
It would be a nice touch to include gifts that are special for the new dad -- a book on fathers and children, an "I love my daddy" bib for the baby, or maybe a frame Dad can take to the office to display a new picture of his baby!


Razzle Dazzle Recipes
Copyright � 2002