Razzle Dazzle Recipes
"Your Source for Thanksgiving Recipes"
Apple Upside-Down Gingerbread Recipe
3 large baking apples, sliced into thin wedges
1/4 C. butter
1 C. firmly packed brown sugar
1 egg
1/4 C. unsulphered molasses, light or dark
1 1/2 C. unbleached all-purpose flour
2 t. ground ginger
1 1/2 t. ground cinnamon
1/2 t. baking soda
1/4 t. freshly grated nutmeg
1/4 t. ground cloves
1/2 t. salt
1/3 C. boiling water

In a 9 inch square metal pan, melt 1/4 cup of the butter over very low heat. Add 1/2 cup of the brown sugar and stir until blended. Add the apple slices, then cover the pan loosely and allow the apples to cook gently while preparing the cake batter.

Preheat the oven to 350°F. In a mixing bowl, beat together the remaining 1/2 cup butter and 1/2 cup sugar until light. Add the egg and molasses and beat until well blended. Sift together the flour, salt, soda and spices, and divide this mixture in half.

Fold half of the flour mixture into the butter mixture, then stir in the boiling water. Fold in the other half of the flour mixture, and stir just until well blended. Remove the pan of apples from the heat, and spoon the batter over them.

Bake the cake until it is springy to the touch, 30 to 40 minutes. Let cool on a rack about 5 minutes, then invert onto a serving plate. Serve with whipped cream.

Yield: one 9-inch square cake.

Back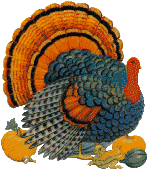 Home

Razzle Dazzle Recipes





http://www.razzledazzlerecipes.com

Don't forget to visit our other Recipe site at
That's My Home

Happy Thanksgiving!