Razzle Dazzle Recipes
"Your Source for Thanksgiving Recipes"
Streusel Pumpkin Bundt Cake

3 C. all-purpose flour
2 t. baking soda
1 T. ground cinnamon
1 t. salt
1 C. butter or margarine, softened
2 C. granulated sugar
4 eggs
1 C. canned pumpkin (NOT pumpkin pie mix)
1 C. sour cream
1 t. vanilla
Powdered Sugar

Pumpkin Streusel:

1/2 C. packed brown sugar
1 t. ground cinnamon
1/4 t. pumpkin pie spice
2 t. butter or margarine, softened

Mix all streusel ingredients until crumbly.

Heat oven to 350° f.

Grease and flour 12 cup bundt cake pan.

Make Pumpkin Streusel, set aside.

Mix flour, baking soda, cinnamon and salt in medium bowl; set aside.
Beat butter and granulated sugar in large bowl with electric mixer on medium speed, scraping bowl occasionally, until creamy. Add eggs, two at a time, beating well after each addition. Beat in pumpkin, sour cream and vanilla. Gradually beat in flour mixture on low speed until blended.

Spread half the batter in pan. Sprinkle streusel over batter, making sure streusel does not touch side of pan. Top with remaining batter, making sure batter layer touches side of pan.

Bake 55 to 60 minutes or until knife inserted in cake comes out clean. Cool in pan on wire rack for 30 minutes. Remove from pan onto wire rack, cool completely. Dust with powdered sugar.

Back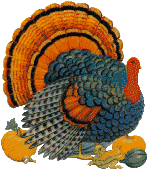 Home

Razzle Dazzle Recipes





http://www.razzledazzlerecipes.com

Don't forget to visit our other Recipe site at
That's My Home

Happy Thanksgiving!