Razzle Dazzle Recipes - Thanksgiving Recipes
"Your Source for Thanksgiving Recipes Online"
Chocolate Brownie Pudding Cake (Crockpot) Recipe

1/2 cup brown sugar
3/4 cup water
2 tbsp. cocoa
2 1/2 cups brownie mix
1 egg
1/4 cup peanut butter
1 tbsp. soft margarine
1/4 cup water

Combine brown sugar, water and cocoa over medium heat. Bring to a boil, stirring frequently. Combine remaining ingredients in another bowl. Spread evenly in the bottom of a lightly buttered crockpot. Pour cocoa mixture over batter.

Cover and cook on HIGH 2 hours. Turn off heat and let stand 30 minutes.
Serves 8.

Recipe from Chyrel
Back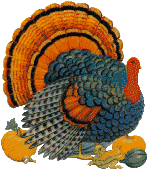 Home

Razzle Dazzle Recipes





http://www.razzledazzlerecipes.com

Don't forget to visit our other Recipe site at
That's My Home

Happy Thanksgiving!