Razzle Dazzle Recipes
"Your Source for Thanksgiving Recipes"
Chocolate Peanut Butter Pecan Tart Recipe

16 oz. semisweet chocolate
1 pint heavy cream
4 T. unsalted butter
1/2 C. pecan pieces
1/2 C. peanut butter
1 graham cracker crumb pie shell (9-inch)

Chop chocolate into small pieces and place in a bowl.

In a large saucepan, bring cream and butter a boil. Pour boiling cream over chocolate and stir until smooth and all the chocolate is melted. Stir in the pecans and peanut butter.

Pour mixture into the pie shell, and refrigerate until set.

Serve with whipped cream or ice cream.
Makes 8 to 10 servings.
Back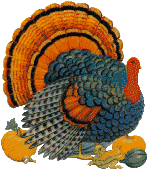 Home

Razzle Dazzle Recipes





http://www.razzledazzlerecipes.com

Don't forget to visit our other Recipe site at
That's My Home

Happy Thanksgiving!