Razzle Dazzle Recipes
"Your Source for Thanksgiving Recipes"
Chocolate Orange Meringue Pie Recipe
Thick meringue shell:

4 egg whites
1/4 t. cream of tartar
3/4 C. sugar

For the filling:
1/2 C. sugar
1/2 t. salt
4 egg yolks, beaten
1/4 C. orange juice
1 T. lemon juice
2 (1 oz.) milk chocolate bars
1 C. heavy cream, whipped

To make thick meringue shell: Beat egg whites in bowl until foamy, using an electric mixer at high speed. Add the cream of tartar. Gradually add sugar, beating until stiff, glossy peaks form. Spread meringue in bottom and up sides of well-greased 9-inch, pie plate. Bake in 275°F. oven 1 hour, or until light beige and crisp to the touch. Turn off heat and leave shell in oven with door open 30 minutes more. Remove from oven and cool on rack. Set the cooled shell aside.

For the filling, combine sugar, salt, egg yolks, orange juice and lemon juice in a small saucepan. Cook over low heat, stirring constantly, until mixture thickens. Remove from heat. Cool well.

Grate 1 chocolate bar. Sprinkle over bottom of the meringue shell. Spread half of the whipped cream evenly over chocolate. Cover with cooled filling. Top with remaining whipped cream. Grate remaining chocolate bar and sprinkle on top.

Chill in refrigerator 8 hours or overnight.

Serves 6 to 8:

Back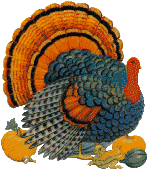 Home

Razzle Dazzle Recipes





http://www.razzledazzlerecipes.com

Don't forget to visit our other Recipe site at
That's My Home

Happy Thanksgiving!