Razzle Dazzle Recipes
"Your Source for Thanksgiving Recipes"
Harvest Pumpkin Cobbler

2 eggs, slightly beaten

1 C. evaporated milk

3 C. cooked and mashed pumpkin (2 medium pie pumpkins)

3/4 C. granulated sugar

1/2 C. packed dark brown sugar

1 T. all-purpose flour

1 t. ground cinnamon

1/4 t. salt

1/4 t. ground ginger

1/4 t. ground cloves

1/4 t. ground nutmeg

1/2 C. butter (no substitutes), melted

1 C. all-purpose flour

1 C. granulated sugar

1 T. baking powder

1/4 t. salt

1 C. milk

1 t. vanilla

Pecan halves (optional)

Preheat oven to 350° F.
For filling, combine eggs, evaporated milk, and pumpkin in a medium mixing bowl. Add 3/4 cup granulated sugar, dark brown sugar, 1 tablespoon flour, cinnamon, 1/4 teaspoon salt, ginger, cloves, and nutmeg. With rotary beater or wire whisk, beat lightly just until combined; set aside.

For crust, pour butter into a 3-quart rectangular baking dish, tilting dish to spread butter evenly. Combine 1 cup flour, 1 cup granulated sugar, baking powder, 1 cup milk, vanilla, and 1/4 teaspoon salt in a small mixing bowl. Pour mixture over melted butter to make crust. Spoon or slowly pour pumpkin mixture evenly over crust.
Bake in preheated oven for 50 to 55 minutes or until a wooden toothpick inserted near center comes out clean. Serve warm. If desired, garnish with pecan halves.
Makes 8 to 10 servings.
Note: If you don't have fresh pumpkin, substitute canned pumpkin; you'll need about two 15-oz. cans. The cobbler is on the bottom with the pumpkin custard baked on top.

Back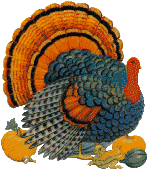 Home

Razzle Dazzle Recipes





http://www.razzledazzlerecipes.com

Don't forget to visit our other Recipe site at
That's My Home

Happy Thanksgiving!