Razzle Dazzle Recipes
"Your Source for Thanksgiving Recipes"
Cranberry Bars Recipe

2 C. all-purpose flour
2 t. baking powder
1/8 t. salt
1/2 C. butter or margarine, at room temperature
1 1/2 C. granulated sugar, divided
1 T. vegetable oil
1 large egg
3 t. vanilla, divided
1 T. cornstarch
1/2 C. water
2 C. cranberries
1/2 C. chopped dried figs
1 t. grated orange rind
1 T. Grand Marnier liqueur
1/3 C. chopped hazelnuts

In a medium bowl, combine flour, baking powder and salt; set aside. In a large bowl, beat butter, 1/2 cup sugar and oil. Beat in egg and 2 teaspoons vanilla. Add flour mixture to egg mixture; mix until it forms a firm dough. Wrap half of dough in plastic wrap; freeze about 30 minutes. Press remaining dough evenly into bottom of 13 x 9 x 2-inch baking pan; place in freezer.

To prepare filling, in a heavy saucepan, combine remaining 1 cup sugar, remaining 1 teaspoon vanilla, cornstarch, water, cranberries, figs, orange rind and liqueur; bring to a boil over medium heat and cook 8 minutes or until mixture has thickened, stirring frequently. Remove from heat; stir in hazelnuts; let cool.

Preheat oven to 350° F. Spread cranberry filling evenly over dough in baking pan. Remove remaining dough from freezer; grate coarsely and sprinkle over top of cranberry filling. Bake 45 minutes or until top is golden brown and sides have pulled away from pan. Place on rack; run a knife around edge of pan. Leave 20 minutes, then cut into bars; cool completely.
Makes 18 bars.
Back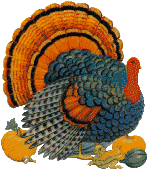 Home

Razzle Dazzle Recipes





http://www.razzledazzlerecipes.com

Don't forget to visit our other Recipe site at
That's My Home

Happy Thanksgiving!