Razzle Dazzle Recipes
"Your Source for Thanksgiving Recipes"
Cranberry Cream Pie Recipe
3/4 C. sugar
2 t. cornstarch
1/4 C. cold water
2 C. cranberries
1 Pastry Shell, baked or graham cracker crust (9 inches)
1 C. confectioner's sugar
1 t. vanilla
1 C. whipping cream, whipped
6 oz. cream cheese, softened

In a saucepan, combine sugar, cornstarch and water until smooth. Add cranberries. Bring to boil; boil and stir for 2 minutes. Reduce heat; cook until berries pop, about 5 minutes. Set aside.

In a mixing bowl, beat cream cheese, confectioners' sugar and vanilla until fluffy. Fold in whipped cream. Spread evenly into pie shell. Top with cranberry mixture.
Chill for at least 4 hours. Store in refrigerator.

Back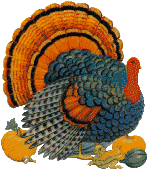 Home

Razzle Dazzle Recipes





http://www.razzledazzlerecipes.com

Don't forget to visit our other Recipe site at
That's My Home

Happy Thanksgiving!