Razzle Dazzle Recipes
"Your Source for Thanksgiving Recipes"
Cranberry Pecan Bars Recipe
Dough:
1 C. flour
2 t. sugar
1/4 C. butter, cut into pieces
2 T. water
1/2 t. vanilla extract

Filling:
1/3 C. whipping cream
1/2 C. light brown sugar
2 T. honey
3/4 C. dried cranberries
1 C. finely chopped pecans

Preheat oven to 350°F. Grease an 8-inch square baking pan and set aside. Combine flour, sugar and butter in a food processor. Process until mixture resembles coarse cornmeal. Add water and vanilla; pulse again. Press dough into prepared pan and freeze for 15 minutes. Bake dough for 15 minutes, until golden.

In a small saucepan over medium heat, combine whipping cream, brown sugar and honey. Bring to a boil and continue boiling for 1 minute. Remove from heat. Stir in cranberries and chopped pecans. Spoon filling over crust, spreading evenly. Bake for 20-25 minutes until bubbling. Remove from oven and cool completely on wire rack.
Cut into 16 squares.
Back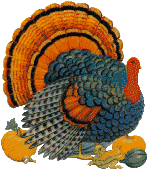 Home

Razzle Dazzle Recipes





http://www.razzledazzlerecipes.com

Don't forget to visit our other Recipe site at
That's My Home

Happy Thanksgiving!