Razzle Dazzle Recipes
"Your Source for Thanksgiving Recipes"
Chocolate Cranberry Cream Cheese Pie
Crust:
1 1/4 C. graham-cracker crumbs
1/3 C. butter, melted
1/4 C. sugar

Filling:
1/2 C. whipping cream
1 C. semisweet chocolate chips
1 C. white chips
8 oz. package cream cheese, softened
2 T. orange juice
2 t. freshly grated lemon peel

Cranberry Topping (see recipe)

Heat oven to 375°F. Mix together graham-cracker crumbs, butter and sugar in medium bowl until combined. Press the mixture firmly onto the bottom and sides of a 9 inch pie plate. Bake 8 to 10 minutes or until lightly browned. Cool on a wire rack.

Heat cream in a small saucepan over medium heat just to a boil. Remove from heat; add the chocolate chips. Whisk until the chocolate is melted and the mixture is smooth. Spread onto bottom of the crust. Cover; refrigerate 1 1/2 hours or until chocolate is slightly firm.

Place white chips in a small microwave-safe bowl. Microwave at high 1 minute; stir. If necessary, microwave at high an additional 15 seconds at a time, stirring after each heating, just until chips are melted and mixture is smooth.

Beat cream cheese in a large bowl until smooth. Add melted white chips, orange juice and lemon peel, beating until smooth. Spread the mixture evenly over the chocolate layer. Refrigerate 2 hours or until firm.

Meanwhile, prepare Cranberry Topping.

To serve, spoon topping over each serving of pie.

Cranberry Topping:
12 oz. bag fresh or frozen cranberries
1 C. sugar
1/2 C. water

Stir together cranberries, sugar and water in a medium saucepan. Bring to a boil over medium heat, stirring occasionally. Continue to cook, uncovered, stirring often, about 3 to 5 minutes or until the berries have popped. Remove from the heat and cool. Cover; refrigerate until ready to use.
Serves 8.
Back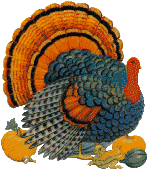 Home

Razzle Dazzle Recipes





http://www.razzledazzlerecipes.com

Don't forget to visit our other Recipe site at
That's My Home

Happy Thanksgiving!