Razzle Dazzle Recipes
"Your Source for Thanksgiving Recipes"
Cranberry-Walnut Cake with Caramel Sauce

For the cake:
2 1/2 C. flour, divided
2 t. baking powder
Pinch of ground cinnamon
Pinch of ground allspice
Pinch of salt
3 T. butter, at room temperature
1 C. sugar
2 eggs
1 C. milk
2 C. fresh cranberries
1/2 C. walnut pieces

For the sauce:
1/2 C. granulated sugar
1/2 C. (packed) light brown sugar
1/2 C. butter
1 C. heavy cream

Preheat the oven to 350° F.

To prepare the cake, place 2 cups of the flour, the baking powder, cinnamon, allspice and salt in a mixing bowl. In the bowl of an electric mixer, or by hand, cream together the butter and sugar. Add the eggs one at a time and beat in. Alternately add the milk and the flour mixture in increments. Place the cranberries and walnuts in a bowl, toss with the remaining 1/2 cup flour and fold into the batter (do not add any of the excess flour). Butter a 9-inch cake pan or baking dish and pour the batter in. Bake for 25 to 30 minutes, or until a toothpick inserted in the middle comes out clean. To prepare the sauce, place the granulated and brown sugars, butter and cream in a large saucepan and bring to a boil. Stir well.

Place slices of the warm cake on serving plates and pour the sauce over. Any extra sauce can be stored in the refrigerator and warmed in the microwave oven.
Serves 8.
Back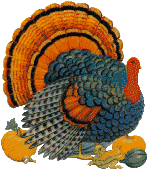 Home

Razzle Dazzle Recipes





http://www.razzledazzlerecipes.com

Don't forget to visit our other Recipe site at
That's My Home

Happy Thanksgiving!