Razzle Dazzle Recipes
"Your Source for Thanksgiving Recipes"
Cranberry Bread Pudding Recipe
2 quarts day old bread
2 Granny Smith apples (peeled, cored and cut in chunks)
1 C. dried cranberries
6 eggs, slightly beaten
6 C. Half and Half
1 T. vanilla
1/2 C. brown sugar
1/2 C. white sugar
1/2 t. cinnamon
1.2 t. grated nutmeg
caramel or chocolate sauce, or both

Tear bread into small pieces. Place in large mixing bowl. Add apples, cranberries and raisins. Mix bread and fruit with eggs, milk, vanilla, sugars and spices. Soak for 1/2 hour. Pour into large rectangular baking pan at least 2-1/2 inches deep.
Bake at 350° F. for 45 minutes. Spoon into individual dishes and top with caramel or chocolate sauce.
Serves 8.
Back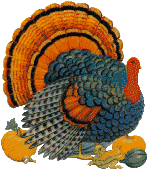 Home

Razzle Dazzle Recipes





http://www.razzledazzlerecipes.com

Don't forget to visit our other Recipe site at
That's My Home

Happy Thanksgiving!