Razzle Dazzle Recipes
"Your Source for Thanksgiving Recipes"
Fudge Pie Recipe
2 C. sugar
1/2 C. cocoa
1/2 C. flour
1 C. butter, melted
4 eggs, beaten
2 t. vanilla
Unbaked 9-inch pastry shell

Combine all ingredients in mixer bowl. Beat until well mixed and pour into prepared pie shell.
Bake at 375°F. for 25 minutes or until set.
Serve with whipped cream or ice cream.
Note: I got a email about this pie today and I think this pie needs to cook a lot longer than 25 minutes. It should be set up like a custard pie when done. I think after 25 minutes I would also turn the oven down to 325 and then start watching it until the center is set.

Back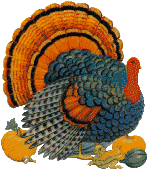 Home

Razzle Dazzle Recipes





http://www.razzledazzlerecipes.com

Don't forget to visit our other Recipe site at
That's My Home

Happy Thanksgiving!