Razzle Dazzle Recipes
"Your Source for Thanksgiving Recipes"
Hummingbird Cake Recipe
3 C. all-purpose flour
2 C. sugar
1 t. salt
1 t. cinnamon
1 t. baking soda
3 eggs, well beaten
1 1/2 C. vegetable oil
1 1/2 t. vanilla extract
1 (8-oz.) can crushed pineapple, undrained
2 C. well-mashed bananas
1 C. chopped pecans

Sift dry ingredients in a large mixing bowl.

Add eggs and oil, stirring until dry ingredients are moistened. Do not beat. Stir in vanilla, pineapple, pecans and bananas.

Spoon batter into three 8- or 9-inch pans, which have been greased and floured well. Bake at 350°F. for 25 to 30 minutes, let cool.

Cream Cheese Frosting:
1 (8-oz.) pkg. cream cheese
1/2 C. butter
1 box powdered sugar, sifted
1 t. vanilla
pecan halves

Mix cream cheese and butter or margarine until smooth. Add sugar and vanilla. Mix well.

Chill the frosting before spreading between layers and on top and sides of cake. Arrange pecan halves on top and chill in refrigerator until time to serve.

Back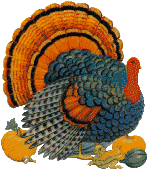 Home

Razzle Dazzle Recipes





http://www.razzledazzlerecipes.com

Don't forget to visit our other Recipe site at
That's My Home

Happy Thanksgiving!