Razzle Dazzle Recipes
"Your Source for Thanksgiving Recipes"
Pumpkin Ice Cream Pie

1 pint vanilla ice cream, softened
1 baked 9-inch pastry shell
1 C. mashed cooked pumpkin
3/4 C. sugar
1/2 t. salt
1 t. pumpkin pie spice
2 C. frozen whipped topping, thawed

Spread ice cream in cooled piecrust; freeze until firm.

Combine pumpkin and next 3 ingredients. Fold in whipped topping; spread over ice cream. Freeze until firm.

Remove from freezer 15 minutes before serving.
Makes 1 (9-inch) pie.
Back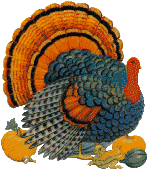 Home

Razzle Dazzle Recipes





http://www.razzledazzlerecipes.com

Don't forget to visit our other Recipe site at
That's My Home

Happy Thanksgiving!