Razzle Dazzle Recipes - Thanksgiving Recipes
"Your Source for Thanksgiving Recipes Online"
Mystery Pecan Pie

1 (8-oz.) package cream cheese, at room temperature
1/3 C. plus 1/4 C. sugar (divided use)
4 eggs (divided use)
2 t. vanilla (divided use)
1/4 t. salt
1 (9-inch) unbaked pie shell
1 1/4 C. chopped pecans
1 C. corn syrup

Preheat oven to 375° F.
Beat softened cream cheese with 1/3 cup sugar, 1 egg, 1 teaspoon vanilla and salt until thick and creamy. Spread this mixture in the bottom of a prepared pie crust and sprinkle with pecans. Set aside.
Mix by hand remaining 3 eggs, 1/4 cup sugar, 1 teaspoon vanilla and corn syrup. Pour this mixture over pecans.
Bake for 40 to 45 minutes.

Makes 8 servings.
Back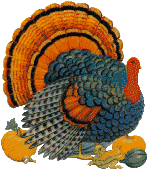 Home

Razzle Dazzle Recipes





http://www.razzledazzlerecipes.com

Don't forget to visit our other Recipe site at
That's My Home

Happy Thanksgiving!