Razzle Dazzle Recipes
"Your Source for Thanksgiving Recipes"
Bourbon-Pecan Pumpkin Pie

3 eggs, slightly beaten
16 oz. pumpkin
3/4 C. brown sugar, firmly packed
1 1/2 C. Half & half
3 T. bourbon
1 t. cinnamon
1/2 t. ginger
1/4 t. salt
2 T. butter
1/4 C. brown sugar, firmly packed
1 C. pecan halves
1/4 C. bourbon
1 9-inch unbaked pie shell

Combine eggs, pumpkin, 3/4 cup sugar, half-and-half, 3 tablespoons bourbon, cinnamon, ginger, and salt, mix well. Pour mixture into the pie shell, bake at 425 for 10 minutes. Reduce heat to 350, and bake an additional 45 minutes or until set. Set aside to cool.

Combine butter and 1/4 cup brown sugar in a saucepan, cook over medium heat, stirring until sugar dissolved. Add pecans and 2 tablespoons bourbon, stirring to coat. Spoon mixture over the pie.

Heat the remaining bourbon in a saucepan just long enough to produce fumes (do not boil), remove from heat, ignite, and pour over pie. Serve pie when flames die down.
Back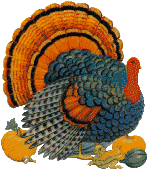 Home

Razzle Dazzle Recipes





http://www.razzledazzlerecipes.com

Don't forget to visit our other Recipe site at
That's My Home

Happy Thanksgiving!