Razzle Dazzle Recipes
"Your Source for Thanksgiving Recipes"
Praline Custard Pie Recipe

1/3 C. packed light brown sugar
1/2 C. chopped pecans
1/3 C. plus 1 T. butter, divided
1 (9-inch) baked pie shell
1 C. granulated sugar
3 T. cornstarch
1/8 teaspoon salt
3 egg yolks
2 C. milk
1 t. vanilla
1 1/2 C. whipped cream
Lightly toasted pecan pieces and or dollops of whipped cream, for garnish

Preheat oven to 450° F.

In a small pan, heat brown sugar, pecans and 1/3 cup butter; cook and stir until butter is melted. Spread in baked pie shell; place in oven and bake 5 minutes. Let cool.

Combine sugar and cornstarch in medium saucepan. Beat in salt, egg yolks and milk. Cook over medium heat until very thick, stirring constantly. Add vanilla and remaining 1 tablespoon butter; cook and stir just until butter is melted. Measure 1 cup custard; set aside. Pour remaining custard into prepared pie shell.

When the 1 cup of custard cools, fold in whipped cream. Spread on top of pie; chill. Garnish with toasted pecans, whipped cream or both.
Back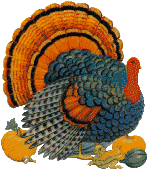 Home

Razzle Dazzle Recipes





http://www.razzledazzlerecipes.com

Don't forget to visit our other Recipe site at
That's My Home

Happy Thanksgiving!