Razzle Dazzle Recipes
"Your Source for Thanksgiving Recipes"
Pumpkin Bread Pudding Recipe

6 croissants, cubed and toasted
16 oz. pumpkin pureÚ
1 C. milk
1/2 C. cream
1/8 C. molasses
1 C. brown sugar
2 eggs
1 1/2 t. cinnamon
1 t. vanilla
1/4 t. salt
1/2 C. sugar

Pre-heat oven to 350░ F.

Combine all ingredients, adding bread last. Sprinkle a little brown sugar and butter on top and bake, uncovered for 15 minutes. Serve warm or chilled.
Back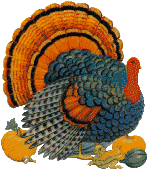 Home

Razzle Dazzle Recipes





http://www.razzledazzlerecipes.com

Don't forget to visit our other Recipe site at
That's My Home

Happy Thanksgiving!