Razzle Dazzle Recipes
"Your Source for Thanksgiving Recipes"
Pumpkin Brioche Bread Pudding Recipe

1 pie pumpkin, cut horizontally, seeds removed
1/4 C. butter, cut in small pieces
1/4 C. maple syrup
1/3 C. granulated sugar
1 1/2 C. half-and-half
1 1/2 C. heavy cream
Finely grated peel of 1 orange
1/4 t. salt
1/8 t. natural almond extract
7 egg yolks
1 loaf brioche (or day-old croissants), sliced into 1/2-inch pieces, then cut into thirds
1 T. butter, softened
4 oz. almond paste, cut into 1/4-inch pieces
6 oz. toasted walnuts

Preheat oven to 350° F. Place the pumpkin halves, cut side up, on a baking sheet (if necessary, cut a small amount from each end so pumpkin sits flat). Equally distribute butter and maple syrup in the pumpkin halves. Bake until soft, 45 to 60 minutes. Set aside to let cool. Pour out butter and maple syrup into bowl of a food processor; scoop pumpkin flesh into bowl. Process until smooth. Reserve 1 cup puree for pudding.

Reduce the oven temperature to 300° F.

In a heavy pot, combine the sugar, half-and-half, cream, orange peel, salt and almond extract. Bring to a boil. In a separate bowl, whisk the egg yolks and reserved pumpkin puree. When the cream mixture reaches a boil, pour it into the yolk-and-pumpkin mixture, whisking constantly, until combined.

Butter a 9 x 13-inch baking pan. Place 1/3 of the cut brioche pieces in the bottom of the pan. Sprinkle with 1/3 of the almond paste. Top this with 1/3 of the walnuts. Continue with these three ingredients until you have used them all, ending with a layer of bread on top. Pour the egg mixture over the pan, distributing evenly. Press down the top of the pudding with a spatula to ensure that the bread has fully soaked up the mixture. Bake for 40 minutes. Check doneness by inserting the tip of a knife, tilting it slightly, and when you can no longer see liquid, the pudding is ready. The bread on the top layer should be browned and crusty.
Makes 12 servings.
Back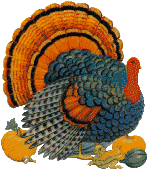 Home

Razzle Dazzle Recipes





http://www.razzledazzlerecipes.com

Don't forget to visit our other Recipe site at
That's My Home

Happy Thanksgiving!